Useful Apps and Tools
https://mega.nz/#!4twhnZKY!QVBidwqdjVVgk8tDcRES4kRbBT61OAO_nzIOGsEWans
Some of these programs are not commercial but made by enthusiasts and they are rare to find. I'll continue to add links here.
(There are no viruses here)
This is a small tool I made for System Memory (RAM) optimiztion. It cleans all the differend types of system memory. It uses EmptyStandbyList but cleans more than that. Enjoy.
Bitsum_Schedule_Tweakers and Asus Hardware Monitor-Portable - I exctracted them from Bitsum Lasso Tool. They work only in Pro version but you can now use them freely. In Win v1809+ they will need higher premissions so Run As Admin won't work any more.
https://mega.nz/#!p9gBTYYa!_AYJMtgBWlI0MU6kadnZRjXnjpicHOLBqN1MRT1z_bY\
Prio is add on for Windows Task Manager. It adds some new features like remembering your settings. For example If you give higher priority to a game or set the affinity to a program you don't need to do it every time even after restart Windows. If you use Bitsum Process Lasso Tool you don't need it but its useful tool anyway.
Search for the best DNS servers for you.
This tool can read Aida64, HardwareInfo & GPU-Z log files and visualise them for better & easier understanding the data.
DDU is makes clean uninstall on your Nvidia, Intels or AMD video drivers. Its been used when you have problems with your video card drvers, Just preinstalling them dont work sometimes because they can be bugged and this is the only way to fix this issue (other than manually clean them by yourself which is very long and extensive work). It works best in Safe Mode.
Expand your Clipboard capabilities
This is fanmade app. It does what what the Steam CPUCores does but its free.
This is a script based on BlackViper Settings. You can run it from the _Win10-BlackViper.bat file. I've added my settings in the folder so there are Default, Safe, Tweaked and you can call mine Extreme. You can set it by choosing Custom Setting. They're not tested on new install so make a SystemRestorePoint. Its very flexible so you can do a lot of things with it. Enjoy.
This is Bios Editor for Radeon 400 & 500 series of AMD GPUs
Previously known as "AMD Registry Editor". You can edit the registry for AMD GPU's.
Optimizes internet settings and more.
TweakMaster is returning to Windows 10 after a long period of no updating.
IMO TCP Optimizer is better but Tweak Master have additional tools.
CPU Accelerator Is made for Windows7 but as long as you can install it on any Windows it will work just fine because it targets the CPU not the Operating System.Mz programs are one of the best for Windows 7. Ofcourse they work for Windows 8 and 10 but they are not optimized for them.
It potentially can fix SLI issues and stuttering. Similar to RadeonMod but for Nvidia cards. There are a pre-defined optimized settings for basically every popular modern game from the last years. Its like Nvidia Control Pannel on steroids - with more options. And you can overclock your card with it. There is very interesting LOD bias tweak which i won't tell you shit about it :) I would hate for this to become popular & all games look like Fortnite.
The following 4 programs allows you to control critical system settings along with Windows privacy and telemetry:
O&O Shutup10
Its portable program.
WPD
Its portable program.
Ashampoo AntiSpy
Dead Pixel Repair
Repirs Dead Pixels on Monitors.
This program is one of the BEST & can fix almost every error you might have in Windows.
Easy to use.
Various system tweaks that makes your PC faster. Don't use all tweaks but read & choose which one is best for you. (The system should feel smoother & snappier, more stable overall, faster boot & shutdown times). Works best with Win 7 & 8 but some tweaks work on Win 10 as well.
Timer Bench
Its portable program.
These two programs are for Ivy Bridge & older systems. This was Windows Overclocking (without the need to go in bios) in its infacy. First read what they support then install. Beta versions are the latest versions.
For People With Ryzen Threadripper CPU & Other High-Core Count Ryzen CPUs
This is made by Bitsum, the same company created Lasso Tool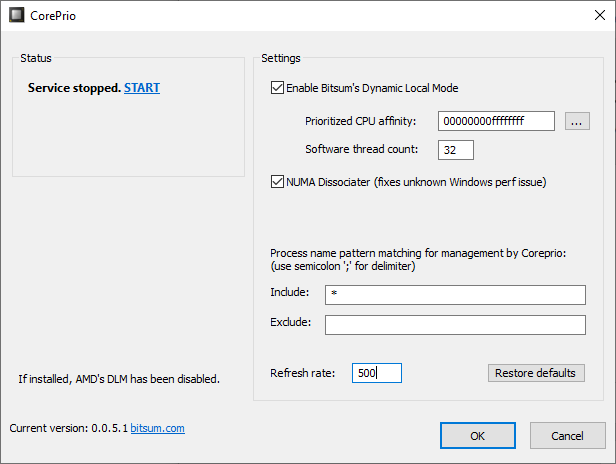 System Memory Help Tool For AMD
Very useful tool when you RAM overclocking. I wish there was something similar for Intel platform.
RAM Overclocking Tool For AMD Ryzen Systems. Better OC & Stability.
It will show you the best timimgs for your RAM sticks.
NVCleanstall lets you remove individual components from the NVIDIA driver, to only install what you actually want. This is the rightway to instal Nvidia Drivers. No bloatware and telemetry.
This is
driver slimming utility for NVIDIA. You can compile your own file with only the main driver. You can choose what you want to remove.
No bloatware and telemetry.
Compatibility Manager
This tool allows you easily set compatibility settings for several applications at once, instead of tweaking them one by one.
It does the same as when you right click on .exe file>Proprties>Compatibility tab, just quicker.
Works for Desktop cards too but the support its temporarily disabled for now.This is the only community tool that tweaks the Pascal & Turring bioses as far as I know.
http://forum.notebookreview.com/threads/mobile-pascal-tdp-tweaker-update-and-feedback-thread.806161/
This is the official AMD Overclocking Utility. You can OC CPU & GPU with it and gives you very good control over your system.
Multipurpose program. It gathers all kind of useful programs. Repair, Anti-Virus, Malware, Hardware Information ect. You can add ypur own programs as well. Very powerful solution for Technicians and Home users.
If you have questions write me e-mail.
If you like what I do click here to buy me beer or something :)
(better use

nikola.vasilev@abv.bg

for PayPal and use "Sending to a friend" option)